Chairman of the Board myspace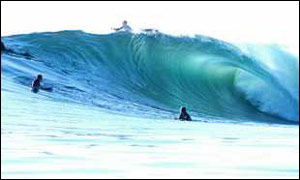 Big Wales Day
By Rowan Chernin

For the heart-jacking thrills of extreme surfing, its a rare thing to find a giant barrelling wave hollow enough to swallow a bus, especially off the coast in sleepy South Wales.
"Y Bocs" aka "The Box" is a rare phenomenon. Situated within the boundaries of a MOD firing range in deepest Pembrokeshire, only an handful of surfers have ventured inside this mortal tube. To reach it requires an arduous paddle-out across a kilometre of rough and deathly cold Atlantic waters. The closer you get to the submerged spit of land upon which this gargantuan wave breaks, the force of the current drags you deep into the impact zone; a curling moutainous lip of icy water crushes against sharp unforgiving rock in a shallow pit of water. This is not for beginners.

Between Monday to Friday, shells from tanks hidden between the isolated sand dunes explode into the sea.So, for only two days a week, under the right atmospheric conditions, Pembrokeshire has a legendary a world class wave.

Welsh-born international competition surfer Carwyn Williams, rates this as one of his favourite waves. Local Nick Swinnerton has been surfing the rarely seen. "Y Bocs" with Williams for over 15 years. "It's a mythical wave, hard to get to and very fickle," says Swinnerton who has practised here with the Welsh surfing team.

"Bocs is more about technical skill than just being able to ride big waves. People who ride big waves aren't necessarily that good, they've just got balls. Here you need skill. It's very dangerous, many of best surfers in country don't surf here. Take off is the most difficult part, getting onto your feet in time before it throws out and throws you out with it, holds you down and smashes you into those sharp rocks. It's horrible, its scary but that's why I love it."